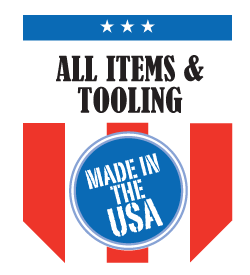 All of our products and tooling are made in the USA
There are three reasons we use American built tooling and produce all of our items in the USA
1. We can tightly control dimensional conformance and material specifications by using only American sourced materials and tooling.
Have you purchased a product made overseas that wasn't exactly what you expected? We have taken the "not quite right" out of the equation.
 2. A shorter supply chain means faster delivery and less down time.
Getting delivery from overseas markets is a hit or miss proposition. We deliver faster than the industry standard because we are using American suppliers.
3. We support American jobs.
Call or email for a quote on your specific part.
317.773.3787